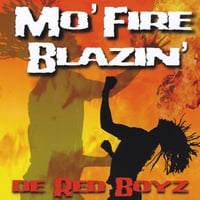 Definitely one of the Albums to pick up in preparation for the 'Greatest Show on Earth' Trinidad Carnival 2009... or should I say 2000 & WINE...


Since their scorching debut as producers in 2006, De Red Boyz - 36-year old Barbadian drummer, Mikey Hulsmeier and Trinidadian transplant, 30-year old guitarist Scott Galt – have reset the Groovy Soca fusion sound, making it crisp, danceable, and spicier.

To date the duo has produced two consecutive Soca albums, both spiked with big names from the local & regional Soca arena. The first album, De Red Boyz Blazin' Red Soca Project, was the birth place for Trinidad and Tobago's 2007 Carnival's International Groovy Soca Monarch winning tune 'Nah Goin' Home' by Barbadian reggae star Biggie Irie. Making the album a sure fire starter, Shontelle, famed author of Alison Hinds mega tune 'Roll It', released her own recording 'Hot Like Fyah'; Peter Ram launched the anthem 'Woman By My Side'', and 2003 People's Monarch, Statement, released 'I'll Be Home'.
De Red Boyz movement is by far a collaboration of two seasoned professionals striking a fresh cord and sprucing up a traditional format. Between the two, the Galt/Hulsmeier team has been making music since childhood. From an early age Scott was plucking around. His dad started him out on a quatro – a four-stringed instrument with Venezuelan origins. Here in Barbados his folks' restaurant Angie's became a place to hangout and listen in on the hotel bands that would play at the establishment during his pre-pubescent years. At five years old a second hand drum set bought by his dad marked Mikey's musical beginning. From then on the drumming hasn't stopped.

This year the Galt/Hulsmeier team is at it again; the list of artistes vying for a chance at recording on a Red Boyz track is long, brought on by the obvious success of the past two albums. Mikey - charming and diplomatic; Scott – dry humored and enduring, aren't into music making as an accessory to chasing skirts, fame, stardom nor the familiar trappings that surface dwellers use to identify success. They're simply devoted to making music sound good. The other stuff they leave for the people out front.
The album features Seasoned veterans with some serious new talent and some crooners. Maxi Priest teams up with Shurwayne Winchester and the Uncle Sam makes two appearances. You have to cop this album... I did!
LOVE YOUR CARNIVAL - UNCLE SAM feat.JAMESY P


SUN TIL SUN - NATAHLEE


NOTHING SWEETER - ANSWAR


FEET DON'T FAIL ME NOW - RUPEE


PUSH BACK - TARAH



ROGALTIC - JAMESY P


WINE IN DE PLACE - ALISON HINDS & UNCLE SAM


ONE MORE TRY - KEVIN LYTTLE


MAGNET TO STEEL - RUPEE


DANGEROUS - DON TRENT


RIDDIM OF DE WEST INDIES - BOBO


WRONG GAL - RED PLASTIC BAG


THAT'S MY CARNIVAL - EDWIN YEARWOOD


WHAT'S COOKIN - BUGGY


HANNAH - DON TRENT feat.PAPITO


WICKEDEST WINER GIRL - FON-TEAR fear.NITRO


GIMME SOME - KIM DERRICK
http://cdbaby.com
http://www.vpreggae.com
http://deredboyz.com/